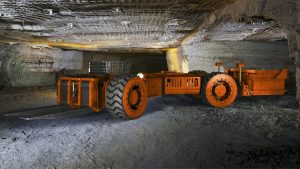 FOR IMMEDIATE RELEASE: February 23, 2022
Matt Simmons
President/CEO, Simmons Equipment Company
(276) 991-3345
msimmons@simmonsequip.com
Simmons Equipment Company Announces Exclusive IP Licensing Deal with Caterpillar Inc. for Portions of Their Soft Rock Equipment Portfolio
Simmons Equipment Company obtains exclusive intellectual property (IP) license to manufacture and sell certain mining equipment formerly produced by Caterpillar Inc.
Tazewell, Virginia – Simmons Equipment Company and Caterpillar Inc. have announced that the two companies have signed an exclusive IP license agreement. 
The agreement grants Simmons Equipment exclusive global rights to manufacture certain soft rock mining equipment formerly produced by Caterpillar. The portfolio of equipment includes the CM210 Continuous Miner, CM220 Continuous Miner, Continuous Haulage Product Line, FH110 Battery Hauler, FB85 Feeder Breaker, FB140 Feeder Breaker, RB120 Roof Bolter, and the complete battery Shield Hauler Product Line (SH620, SH630, SH650, and SH680).  The agreement also grants Simmons Equipment nonexclusive rights to supply aftermarket spare parts and support existing Caterpillar room and pillar equipment.   
The agreement expands on Simmons Equipment's existing portfolio of soft rock mining equipment and reflects its continued commitment to providing innovative solutions to the global mining market. "We are thrilled to be able to offer these proven solutions to our valued mining customers," commented Matt Simmons, President, and CEO of Simmons Equipment Company.  "We have a rich history in mining machinery, and adding these trusted products to our growing portfolio solidifies our commitment to being a global leader in soft rock mining equipment solutions."  
Denise Johnson, Group President Resource Industries, Caterpillar stated, "We are pleased that mining customers will have access to Caterpillar's differentiated designs for low seam room and pillar equipment and aftermarket components. Caterpillar and Simmons will work together to ensure a cohesive and orderly transition."  
About Simmons Equipment
Beginning with the S & S Machinery Co., the Simmons family has been associated with the underground mining equipment business for over 50 years. Simmons Equipment Company continues to build on this legacy by remaining at the forefront of the industry in product quality, innovation, and customer service. Simmons Equipment is an OEM manufacturer with a product line that includes battery and diesel scoops, battery-powered haulage vehicles, and longwall shield haulers. More information is available at simmonsequip.com. 
---
Share This
---